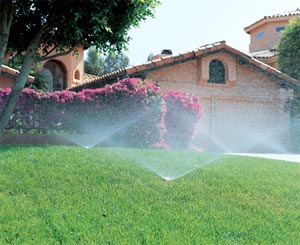 Irrigation of lawns, parks and sports fields is one of the activities in which Zrinjevac subsidiary is a respectable partner and reliable supplier of many companies in the Republic of Croatia and beyond.
Our foreign partner since 2002 is the American company Hunter Industries, the manufacturer of irrigation equipment for gardens, lawns, parks and sports fields.
In order to complete our offer and provide a complete range for the installation of irrigation systems for our customers, we import connection material for pipelines, standard vents, "drop by drop" lines, self-piercing drip emitters and other equipment for microirrigation.
Today the irrigation equipment from our range is installed across Croatia from Međimurje to Dubrovnik, and it is also re-exported to Bosnia and Herzegovina.
In addition to complete installation of irrigation systems according to the "turnkey" principle, the irrigation equipment can also be ordered separately. The goods are stored in Zagreb and direct delivery is possible.
We install irrigation systems on all green areas, from the smallest private gardens to the largest lawns and parks, residential and business facilities, as well as sports facilities.
Contact
Nenad Haramija
T: +385 1 6598 961
M: +385 98 364 360
F: +385 1 652 5093
E:
nenad.haramija@zrinjevac.hr